Yesterday, I was listening to a podcast in which Oprah Winfrey interviews the famous Tell-It-Like-It-Is counselor Dr. Phil McGraw.  When I was a kid, I remember the Oprah show came on TV at 4 PM, and more often than not, it was playing at our house.  I wouldn't say anyone religiously watched the show; it served more as the background music of our after-school routine.  I also remember when Dr. Phil became a regular guest on her show, with his no-nonsense advice, which has evolved to be iconic common sense.  Nuggets like: "My father told me to never miss an opportunity to shut up" or "No matter how flat you make a pancake, it always has two sides" blend humor, colloquialism, and wisdom in delicate balance.  
I also remember hearing him say to a guest who was complaining about not having enough time for something she claimed mattered to her:  "People make time for what matters to them, for what they think is important."  So simple, yet so true.  The most precious gift we can give ourselves or anyone else is our time -- and we show people what matters to us by the amount of time spent on it.  
(Arguably, this becomes more complicated in relation to the number of people who depend upon a person.  For example, I really wanted to go for a run two mornings ago.  Running is important to me.  My health matters.  Just as I shut off my alarm, Liam padded groggily into the room, crawled into bed next to me, put his arms around me and went back to sleep.  In that moment, my relationship with my son, his comfort and security -- all mattered far more than my running log.  One could say I didn't make running a priority that morning; therefore, I don't care about it.  But, I think it means we must prioritize what matters to us, and my family will always trump my personal needs.)
Another one of my favorites, and often quoted to my kids: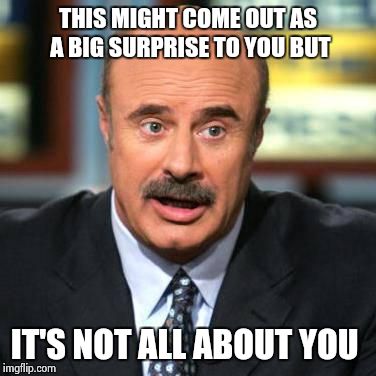 I'll be honest -- I forgot about these Dr. Phil-isms until I was listening to his voice through my headphones.  It was then that I realized what an impact some of his words had made in my development as a person, a mother, an educator.  I am also sure that some of the wisdom attributed to him above has come to me through a variety of sources (because the Universe works that way).  
And this, really, is what I set out to blog about, on this rainy morning.  When we aspire to raise miniature humans, we face a monumental task: we must simultaneously inspire their passions, endorse their dreams, cultivate their creativity, bolster their self-esteem, foster their work ethic, encourage their pursuit of happiness, validate their feelings -- all while providing educational opportunities previously unmatched by any generation.  Oh, and somewhere along the line, we have to make enough money to provide food and shelter and private lessons and tutoring and trips and clothes and equipment -- so while we are focusing all of our energies on these little humans, we are also supposed to be advancing in our career in a meaningful way which will win both the necessary bread and the admiration of our offspring.  
I almost forgot!  While all of our focus and attention is on the upbringing and future success of said offspring -- we also are charged with preventing them from becoming narcissistic egomaniacs.  
Good luck and Godspeed.  
How does any parent strike that balance?  Hell if I know.  I go to bed every single night wondering if I am doing a blessed thing right in this whole parenting gig.  Maybe that alone indicates that I am doing something right.  I avoid arrogantly charging ahead like I have all the answers in any given situation, especially those which involve my children.  Just yesterday, I went to the pharmacy to pick up a new medication my son's doctor recommended, based on our discussion of his behavior at a recent appointment.  The medication rang up over $150.  I was shocked (his medication is usually $25, max), but I paid for it because it is what we need to try for him.  I called the insurance company from the parking lot and received the comforting news that once I reach my deductible (you know, about $1000 from now), his medication will be totally covered.  I made a decision with my child's best interest in mind, but that didn't keep me from wondering if I even have the right insurance for my children, and shouldn't I know more about my insurance plan anyway?  (Egads, we are back to that time problem again.) 
Gene and I both strive for balance in parenting -- we work hard to provide opportunities like private voice lessons to our daughters and sports and tuba lessons to our sons.  But, we have open, frank discussions with the kids about how much their lessons cost so that they understand the need for them to match our financial commitment with a dedication to practicing.  We also encourage gratefulness in our kids.  Sometimes that looks like this:  "I bought you a pack of graduation-themed thank you notes.  You need to take some time to think over the past four years of high school and make a list of teachers who you should thank for all they have done for you. Then, write them all letters."   Other times, it's less prescribed; still others, the kids come up with ideas on their own. 
Ultimately, we want our kids to remember: It's not all about you.  You know, while nearly every outward sign points to the contrary.  
I try to strike this same chord in my classroom, as well.  From Day 1, we begin with their education in mind, but we also begin as a community of learners.  Yes, their individual progress is paramount, but at the same time, they are not learning in isolation.  And some days, at home and at school, I need to pull out my Dr. Phil and tell my kids like it is:  You are not working to your potential.  I know this because I see you potential, even if you don't.  You are wasting time on your phone in your free time, when you should be reading or doing homework.  Let's fix this together.  
Dear Reader, this is why I should blog more frequently.  I have written over 1000 words already this morning and feel I have only just begun.  Alas, I need to stop, and I looked in my briefcase and can't find a decent conclusion to this post anywhere.  So, I leave you now, with my morning responsibilities beckoning at the door, hoping you found something worthwhile here that you might carry with you -- even if it's a reminder to read up on your insurance benefits.